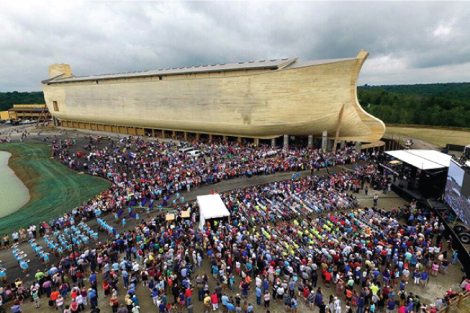 In January 2016, Patrick was hired by Answers in Genesis to help build the Ark Encounter in Williamstown, Kentucky.  Shortly after the Ark opened in July 2016, he became its Director, and currently serves as the Director of Ministry and Media Relations for AiG.  
Two years ago this week, the Ark Encounter opened its doors and quickly became a major international tourist destination. Answers in Genesis (AiG), operators of the Ark Encounter, continues to engage in major expansions this year and through 2019, with other significant additions planned beyond 2019. Meanwhile, new hotels and other tourism-related businesses have launched or are under construction throughout Northern Kentucky, and their owners cite excellent attendance at the life-size Noah's Ark as a main reason.
As this world-class Christian themed attraction wraps up its second year tomorrow, tourism officials are testifying to the ark's remarkable economic impact on the region. In addition, the state's treasury is benefiting, and Kentucky is also seeing the creation of thousands of ark-related jobs. As the Noah's Ark replica sails into its third year of operation, additions and projects are underway at the theme par
k that will have fans returning again and again as the Ark Encounter theme park expands.
Ken Ham, the CEO of Answers in Genesis, Ark Encounter, and the ark's sister attraction the Creation Museum in Petersburg, Kentucky (which has doubled in attendance since the Ark opened), declares, "We are so blessed to have seen over one million guests visit the Ark Encounter in our second year. Almost all attractions see a drop in attendance after the initial excitement of the opening year wears off, but we have experienced another remarkable year. Numbers are even higher than our excellent first year, partly because so many motor coach tours, a 20% increase, are arriving daily."