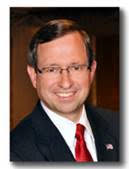 Brief Introduction of the Hon. Sam Rohrer, President of American Pastors Network (APN) and Pennsylvania Pastors Network (PPN). Co-host of APN's national radio & TV program "Stand in the Gap Today."
American Pastors Network has been identifying, equipping, educating, and networking pastors and church members to "stand in the gap for truth"—being a voice for truth and an advocate for pastors in the public square, and strengthening the biblical relationship between pastors and elected officials.
College Fraud - Just the Tip of the Iceberg
Sam Rohrer, President of the American Pastors Network, shared these thoughts recently on his "Stand in the Gap Today" radio program:
Please tell us about the college fraud investigations revealing that hundreds of millions of dollars have been spent by parents to get preferred placement of unqualified students accepted into colleges and universities. 
What does this say about our society today? How deeply is fraud embedded in the American society?
What is the economic impact to America?
How far-reaching is this and how embedded is fraud in the minds of modern Americans?
Some have experienced fraud directly because their identity has been stolen. The Bible says fraud of any type is a sin. The only reason that bribery and fraud are even considered a criminal act is because of God's moral law.
What is the cultural impact of fraud that is not being measured?
How is there ever to be a reduction in economic fraud?
Consider the laws that run counter to God's moral laws – they are fraud. 

Abortion laws that permit the murder of babies is public interest fraud and legislative fraud.
Gambling legislation that legally permits the theft of funds from people is legalized public fraud
Courts who redefine laws regarding marriage, abortion, and other items is judicial fraud. 

But what is the cultural cost of fraud?
Thank you for sharing APN's perspective on this topic. How can listeners learn more information about the American Pastors Network or see these action steps for their own church?